About Susie
Yoga for every body! I am passionate about promoting yoga for wellbeing and encouraging students to challenge perceived limitations based on body shape, age, gender, and the ability to reach one's toes. Having worked in demanding desk-based jobs for nearly 20 years, I can personally attest to the significant physical, mental and emotional benefits that yoga and meditation practices bring to our lives.
Yoga can be as simple as pausing to take a deep breath into the belly, or making small movements instigated by the breath, and can help you work with your edge of comfort – be that in balancing, using strength, the ability to sit calmly, or to open your mind to your own power and possibility.
I offer considered, breath-led, slowly flowing vinyasa yoga classes, balancing grounding and strength with uplift and energy. Yoga classes create a space for self-exploration and I encourage students to bring their whole selves, promoting self-care and the therapeutic and restorative nature of yoga practice. I draw on mindfulness practices and yogic philosophy and keep a light sense of humour throughout my classes.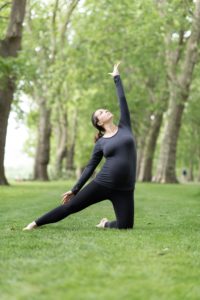 I'm currently on maternity leave and I'm not teaching public classes, but I have enjoyed my last couple of years teaching public classes, including Beginners Courses at Paper Dress Yoga – a spacious and light-filled studio across the road from Hackney Central station.
I also organise and teach corporate yoga in workplaces, as well as running private and small group sessions for adults, including pregnant and post-natal women, as well as children and families. I am based in south London. If you are interested in knowing more, please contact me.
I've trained in Pregnancy Yoga through Yoga Campus with Uma Dinsmore-Tuli and Lisa White and completed Children's Yoga Tree's 40-hour Foundational Children's Yoga Teacher Training course. I'm super excited to be able to offer yoga for expectant mothers, post-natal women, children and family groups now too. I graduated in early 2018 from my 300-hour advanced teacher training with Jason Crandell and completed my foundational 200-hour teacher training in 2016 with some of London's most well-regarded vinyasa yoga teachers, including Naomi Annand and Adam Hocke, at the beautiful Yoga on the Lane studio in Dalston. I love learning and see these trainings as steps in a lifelong journey of ongoing study and practice.