Classes & Events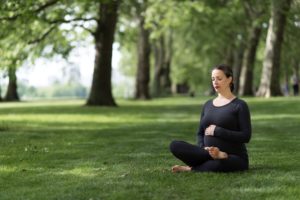 Maternity Leave!
I'm currently on maternity leave so I'm not taking public classes, but please do get in touch if you are interested in organising private or small group classes, including classes for pregnant or post-natal women / parents-and-babies, children or families.
Corporate classes will still be running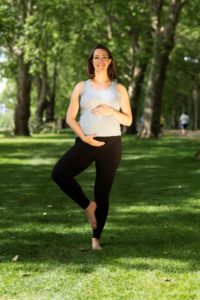 For employees of Janus Henderson Investors, classes for July to December 2019 are available for booking online and you can use the contact form for more information.
Paper Dress Yoga
For the last couple of years, I have been teaching workshops, Beginners Courses and weekly public classes at Paper Dress Yoga by Hackney Central. The studio is lovely and large, and full of light, and offers a wide range of classes to suit every body. Book here or via Mind Body Online.
>>>
Previous events
Every few months, Hannah Turner Voakes, owner of Paper Dress Yoga, and I run our six week beginners' course.  We always really enjoy welcoming a new crowd (and some familiar faces) into the studio and the wonderful, life-enhancing practice of yoga. We've had some lovely feedback from the most recent course. It can book out, so keep an eye on the Paper Dress Yoga website for the next course dates.
>>>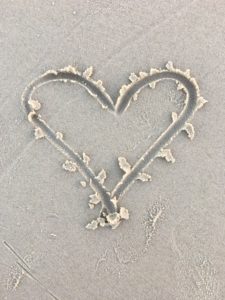 On 1 December 2018, we had a lot of fun exploring handstand, forearm stand, headstand and shoulder stand, all in support of an excellent charity called OmPowerment. We warmed up together, had some fun experimenting with techniques and assists, and then wound down with a lovely restorative sequence.
The OmPowerment Project's mission is to empower refugees to lead themselves and members of their communities in the healing practice of trauma informed yoga. 100% of the money raised from the workshop was donated to the first Myanmar OMPowerment training. 10 girls from different conflict areas, internally displaced person (IDP) camps and monastic orphanages attended the training. The project will also be delivering a second training in Yangon aimed at yoga teachers, enabling them to deliver further OMPowerment yoga trainings to refugees and communities that are internally displaced within Myanmar's conflict zones.
You can find out more about the OMPowerment Project and other opportunities to support this wonderful charity at https://ompower.org/.
>>>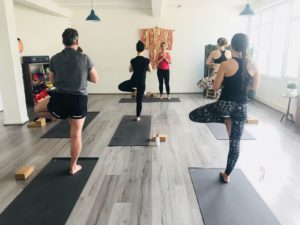 On Saturday 8 September 2018, Hannah and I co-taught our informative and fun Inversions workshop.  We began with a warm up and flow, and then looked at headstand, handstand and forearm stand in a bit more detail. We thoroughly enjoyed ourselves, and received some great feedback.
>>>
In 2018, April's workshop was Chaturanga + Crow. Hannah and I thoroughly enjoyed leading the group through a preparatory flow, refining the technique of chaturanga dandasana ("four limbed staff pose", aka the bit between plank and upward facing dog). We followed that with quite a bit of play with crow pose and variations, and a lovely long restorative session. Good fun all around.
>>>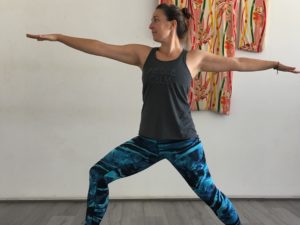 In 2018, March's fundraising class – Warriors for Women, we explored the story behind the poses – of Shakti and Shiva, of love and brutal revenge – as well as looking at key alignment points for the family of warrior poses. As always, it was a joy to teach in the comfortable, light-filled space that is Paper Dress Yoga.
In addition, a big Thank You! to everyone who attended any class in March – just by coming along, you supported Ourmala's Warriors for Women appeal – proceeds all went to the successful crowdfunding campaign for the opening of a new Happy Baby Community in south London. Like the existing HBC in Hackney, it is already providing a range of services, including yoga, English classes and hot lunches to new and expecting mothers who are refugees, asylum seekers and survivors of torture and human trafficking.
All funds raised will go towards alleviating pain and anxiety and promoting self-esteem, hope and a sense of community in some of the most marginalised and vulnerable members of our society. We are always looking for yoga teachers, English teachers and anyone who'd like to help out, as well as any contributions – big or small. If you'd like to help out, get in touch using the contact form or visit the Ourmala website.
>>>
Monday 19 February 2018 saw the last evening of our six week beginners' course at Paper Dress Yoga. Hannah and I spent months preparing for this course, considering what best to cover and how best to present it for our new yogis. It was super exciting to get to put together a small curriculum for the course and work with the same people over a consistent period, getting to know them, and their practices. We stayed with a core sequence, adapting as we went to introduce weekly themes and new poses. I hope we've prepared them well for their future yoga undertakings!
>>>
I thoroughly enjoyed taking a workshop called "From Desk to De-Stressed" last year at the very cool new Novotel at Canary Wharf for a new venture called The Conscious Collaborative. A great group came along to the class and we had a lively chat about ways of incorporating yoga into every day life, working with tight muscles and generally looking after ourselves. I am hoping that we can organise something similar again soon.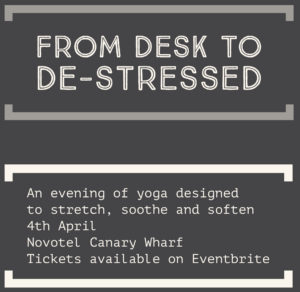 6.45 – 8.30pm, Tuesday 4 April 2017 at the Hotel Novotel Canary Wharf E14 9TP
Let go of tension from your neck and shoulders, flow through some steady and accessible yoga poses and restore energy levels depleted by demanding schedules and busy lives. Learn some simple movements to take home, and take the opportunity to ask any questions about how yoga can help soothe stress and uplift our lives.
Suitable for all levels, including complete beginners. Further details and tickets are available here.
The Conscious Collaborative is hosting an evening of yoga with Susie Gerke in Canary Wharf's trendiest new hotel. 
Join us to relax and enjoy a practice of yoga for office workers. You can expect a 60 minute session of yoga designed to counterbalance the postural challenges of a desk job and a fast paced lifestyle. Susie will be on hand after the session to answer any questions you have on the benefits of yoga and the incorporation of it into our busy lives. A chance not be missed when yoga teachers are usually dashing from class to class… 

Bring your work mates, best mates or even your boss! Come with an open mind for an evening of conscious wellness in a hot new Canary Wharf location.