What's On
Come to any class in March and support Ourmala 
Just by attending one of my classes in March, you will be supporting Ourmala's Warriors for Women appeal – proceeds will go towards opening a new Happy Baby Community in south London. Like the existing HBC in Hackney, it will provide a range of services, including yoga, English classes and hot lunches to new and expecting mothers who are refugees, asylum seekers and survivors of torture and human trafficking.
I will be donating 25% of my proceeds for the month, and collecting any additional donations in class. You can also support the appeal directly via this Crowdfunding link (which opens in April). Many thanks to those who attended our Warriors Workshop at Paper Dress Yoga on 17 March, the proceeds of which will all go to support this cause.
All funds raised will go towards alleviating pain and anxiety and promoting self-esteem, hope and a sense of community in some of the most marginalised and vulnerable members of our society.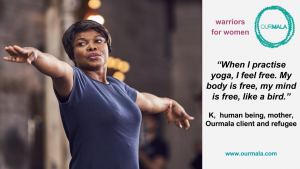 Monthly workshops at Paper Dress Yoga
If you are looking to refine your alignment and delve a little deeper, join us for some fun and invigorating workshops over the coming months.
This first workshop (on 17 March) focused on the group of poses inspired by Virabhadra – the warrior created by Shiva. We had a fun afternoon, and all proceeds went to support Ourmala.
Next up, we have:
Chaturanga + Crow, on 14 April
Exploring Backbends, on 19 May
Enjoying Inversions, on 17 June
These workshops are suitable for all levels – everyone is welcome. You can book any or all of them at www.paperdressyoga.co.uk, via the Mind Body Online website or app or by calling 020 8510 0520
Regular classes at Paper Dress Yoga
London's – only vintage-inspired yoga studio opened across the road from Hackney Central station last year, and I'm enjoying teaching a couple of classes there each week. For the early birds, I take the Monday morning 7.15am class and to round off the week, I also teach on Friday mornings at 9.30am. This spacious, light-filled and stylish studio is currently offering 50% off your first class and 10 days of unlimited classes for £20.
You can book at www.paperdressyoga.co.uk, via the Mind Body Online website or app or by calling 020 8510 0520.
2018 Beginners' Course back by popular demand! Wanting to try yoga for the first time or looking to go back to basics? If so, PDY studio owner, Hannah Turner Voakes and I will be taking a six week Beginners' Course starting on 14 May 2018. It will run to 18 June with a week off for the late May bank holiday. More information on this course is available here.
Corporate, workplace and group classes
For employees of Janus Henderson Investors and Eaton Square School, and members of Kings Cross Steelers Rugby Club, classes are available for booking online or by emailing me. You can use the contact form for more information.
Can't make it to a studio? Try yoga at work or home!
Please get in touch if you are interested in organising private or small group classes, one-off workshops or workplace yoga classes.
———
Previous events
I thoroughly enjoyed taking a workshop called "From Desk to De-Stressed" on last year at the very cool new Novotel at Canary Wharf for a new venture called The Conscious Collaborative. A great group came along to the class and we had a lively chat about ways of incorporating yoga into every day life, working with tight muscles and generally looking after ourselves. I am hoping that we can organise something similar again soon.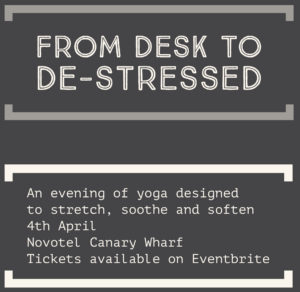 6.45 – 8.30pm, Tuesday 4 April at the Hotel Novotel Canary Wharf E14 9TP
Let go of tension from your neck and shoulders, flow through some steady and accessible yoga poses and restore energy levels depleted by demanding schedules and busy lives. Learn some simple movements to take home, and take the opportunity to ask any questions about how yoga can help soothe stress and uplift our lives.
Suitable for all levels, including complete beginners. Further details and tickets are available here.
The Conscious Collaborative is hosting an evening of yoga with Susie Gerke in Canary Wharf's trendiest new hotel. 
Join us to relax and enjoy a practice of yoga for office workers. You can expect a 60 minute session of yoga designed to counterbalance the postural challenges of a desk job and a fast paced lifestyle. Susie will be on hand after the session to answer any questions you have on the benefits of yoga and the incorporation of it into our busy lives. A chance not be missed when yoga teachers are usually dashing from class to class… 

Bring your work mates, best mates or even your boss! Come with an open mind for an evening of conscious wellness in a hot new Canary Wharf location.